Volunteering Opportunities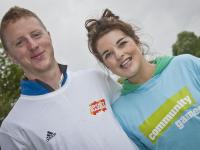 The national Community Games programme is delivered locally by County Sports Partnerships (CSPs) and YMCAs. Volunteers are vital to the success of the programme, and since January 2012 80, 130 volunteers contributed over £4million of volunteer effort.
Click here for more information on how to recruit volunteers for your community games, as well as these pages on how to communicate with and support your volunteers once they have joined your team.

Our independent research shows that they found it to be a rewarding experience, with 97% of them saying they would look to volunteer again. Many volunteers said they felt a sense of pride in their local community, and were also proud that they had contributed to something worthwhile.
If you are interested in volunteering at one or more Community Games events, the best thing to do is contact your local CSP or YMCA. Alternatively you could visit the 'Take Part in a Games' page, put in your postcode to find and event near you, and contact the organiser to see if they would like some help. We're sure your offer will be warmly received!
And if you are inspired to organise your own Community Games, please use the 'Express Your Interest' form and one of the local team will be in touch.