Sports Activities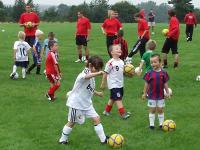 Sport will obviously be one of the main features at your Community Games. The main thing is to provide lots of opportunities for people to participate, either by giving them the chance to try something new, or in a competition. You could organise your Games themed around one of this summer's major sporting events - download our calendar for ideas.
What?
A Community Games is a great opportunity for people to try new things – getting to experience an activity instead of just watching it on the TV – and can encourage people to take up something new on a regular basis.
Find out what different sports and activities clubs you have locally – being able to generate more members, promote their club and showcase what they do will be a great incentive for them to get involved in your Games. Not only that, but they may even be a good source of volunteers. Involving local clubs ensures that people have somewhere to continue participating if they get hooked. It's probably not a good idea to provide an activity for which there isn't a club within 100 miles!
Beyond the traditional sports activities (football, rugby, cycling, netball, etc.) you might be able to find some non-mainstream sports to really give people a different and unique experience, sports like Kabbadi (team contact sport), softball (similar to baseball, but uses a larger bat), boccia (bowls for disabled people), croquet (lawn based game), skateboarding and so on.
You could even theme your selection of sports around those included in the London 2012 Games; recent additions to the Olympic portfolio include BMX, handball, goalball and seated volleyball.
Of course the ancient Olympics (which began in 776 BC!) had a very different line-up that included pentathlon (incorporating running, jumping, javelin, discuss and wrestling), and pankration (primitive form of martial art combining wrestling and boxing). So if you've got some spare robes you might fancy a more ancient event.
How?
There are a variety of different ways of staging the events in your Community Games. If you decide to hold some competitive games then you should decide whether you want to declare a winner (and possibly award medals) at the tournament's end, or whether people can just play as much as they please. If it's a team game are you going to invite actual teams or form them on the day? Could you include games people could play as a family, like rounders or croquet for instance?
Whatever competition format you go for, remember to set a time limit on games, so that they don't go on all night. And because many people have a competitive streak – perhaps previously hidden – it's also a good idea to make sure, in competitive events, that there is a set of rules, and perhaps an official to explain them.
Results!
You should make a note of the results of any sporting competitions you run during the day. You could even announce these results in your closing ceremony, if you're having one, or just display them in a prominent place at the event. You may also want to keep a record of these results for the future, particularly if you think that your Community Games may become an annual activity – that way, you can create a 'wall of fame' of the winners of different sporting competitions which you can refer to in future years.