Legacy Trust UK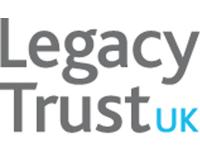 Legacy Trust UK funded the Community Games in the West Midlands as one of the main programmes in the West Midlands Culture programme for London 2012.
Legacy Trust UK is an independent charity whose mission is to support a wide range of innovative cultural and sporting activities which celebrate the London 2012 Olympic and Paralympic Games and which will leave a lasting legacy in communities throughout the United Kingdom.
Legacy Trust UK is funded by a £40 million endowment made up of £29m from the Big Lottery Fund, £6m from the Department for Culture Media and Sport and £5m from Arts Council England.
Legacy Trust UK has been one of the Partners responsible for securing a £2 million grant from the Cabinet Office, and Moira Swinbank, Chief Executive of Legacy Trust UK said, "Legacy Trust UK is all about securing a legacy from London 2012 in communities right across the UK, and what better way to do this than through Community Games? We're delighted that the potential of this regional programme has been recognised, and look forward to working with the County Sports Partnesrhip Network and the YMCA to bring a taste of the Olympic and Paralympic Games to millions of people throughout England."